UCLAH Offers Expert Wound Care at Home for Hospice Patients
Many hospice patients suffer wounds. UCLAH's expert medical staff provides wound care at home, minimizing discomfort and pain for our patients.
Expert Wound Care at Home
Despite the best efforts of family and health care staff, wounds are common among the terminally ill. Many hospice patients suffer some form of wound during the final stage of life. Since advanced illness impacts the body's ability to repair and resist injury, and the patient's ability to care for herself, it is vitally important that caretakers can care for the patient's wounds. UCLAH staff offers expert wound care at home hospices, contributing to the physical and psychological comfort of patients.
Wounds are painful, of course, but they can also harm the mental health of sufferers. They might make patients feel that they are being neglected or improperly cared for, and the presence of seeping fluids or foul smells can have a terrible impact on the mental state of patients.
There are many kinds of wounds that hospice patients might suffer from.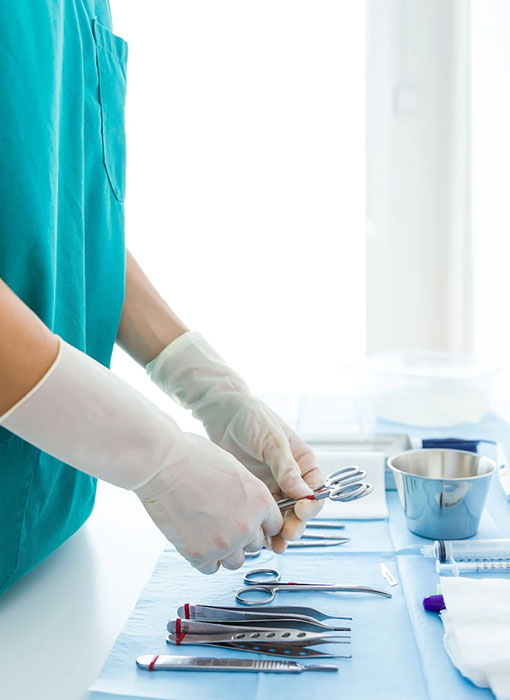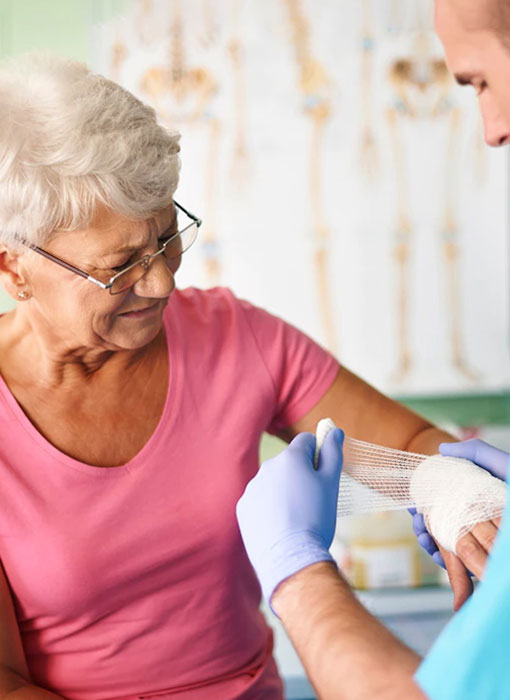 Pressure ulcers, also known as bedsores, are the most common wound among hospice patients, affecting as many as 40% of hospice patients. The breakdown of the patient's muscular function, the greatly diminished immune response, and the thinning of the skin make bedsores all but inevitable for some patients. They can occur even with attentive, skilled nursing, and once they appear, they are not fully treatable.
Once a patient develops bedsores, the family, and our care staff will discuss how to maximize the patient's quality of life. Remember, the patient's comfort is the top priority in hospice care, and the patient may reach a point where taking measures to prevent bedsores will be more uncomfortable than the bedsores themselves.
Family members may feel they are providing inadequate care if their ill family member develops bedsores. This is not the case. Bedsores are all but unpreventable in some cases, and feelings of inadequacy should not detract from the care and comfort that can be given to the patient.
Skin tears, like bedsores, are common due to the fragile, dry, and thin skin common in terminally ill patients. They can result from accidents when moving the patient or when using medical equipment, or like pressure ulcers, they can be caused by excessive friction with bedclothes and clothing.
Skin tears are painful, and they often bleed and leak exudate. They occur most often on the hands, meaning that such tears are highly visible and restrictive to the patient. Because of these problems, skin tears are very distressing for patients, and we always take great care to minimize the unpleasant symptoms of tears.
These occur when the tissues under the skin are subject to too much force. This results in livid bruises or blood-filled blisters on the skin, but the true problem is in the soft tissues underneath. If left untreated, these can affect blood flow, rapidly causing the problem to worsen.
The area around the visible wound is often painful, firm, and of a different temperature than the rest of the patient's skin. Regular, gentle repositioning may prevent these from happening, and physical and occupational therapy can limit their likelihood as well.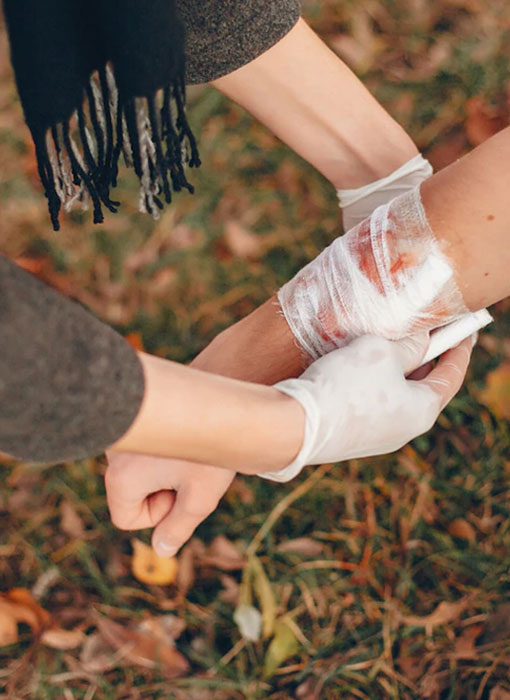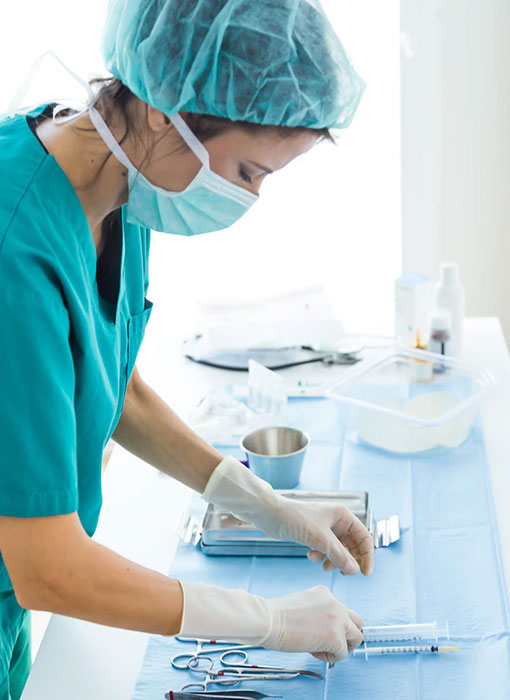 Terminally ill patients with cancer might suffer from these. Tumors growing under the skin can break through the surface, forming a purple wound. These can starve surrounding tissues of oxygen, thus worsening the problem greatly. They also often have a foul smell, which can cause great distress to the patient.
These are common in terminal patients with heart failure and other venous conditions, but their ultimate cause is unknown. Venous ulcers are shallow wounds that usually form on the lower legs of patients, resulting in painful swelling and sometimes intolerable itchiness. Patients who scratch at such ulcers are likely to worsen the problem.
There are many more wounds that a patient can suffer than are listed here, but UCLAH staff members are prepared to treat any problem that might occur.
Preventing wounds is much easier for everyone involved than treating them, so as much as possible, we try to avoid circumstances that might cause them. Our nurses, therapists, and other staff will teach the family and the patient what can be done to prevent wounds in the first place.
A basic preventive strategy involves repositioning the patient to optimize comfort, keeping to a schedule so that no one part of the patient's body experiences too much pressure for too long. The use of special pillows, foam supports, or padding can also help alleviate pressure and friction.
Regular bathing is necessary to stay healthy, and clean, soft sheets and clothing can minimize friction. A skin care plan can improve skin elasticity and prevent dryness, reducing, if not eliminating, the risk of bedsores.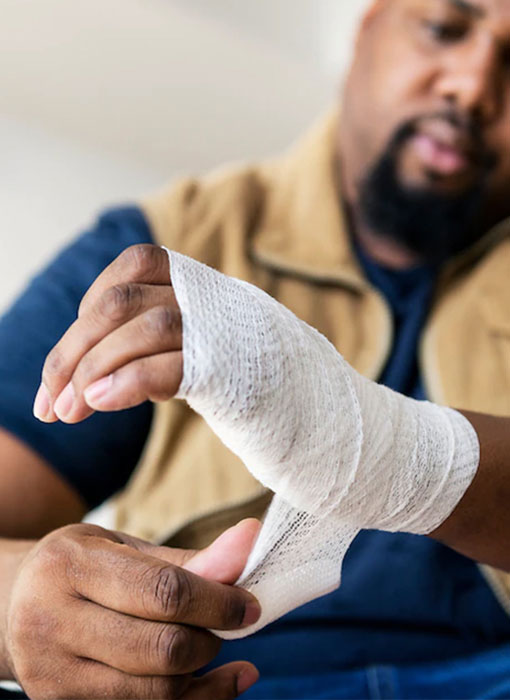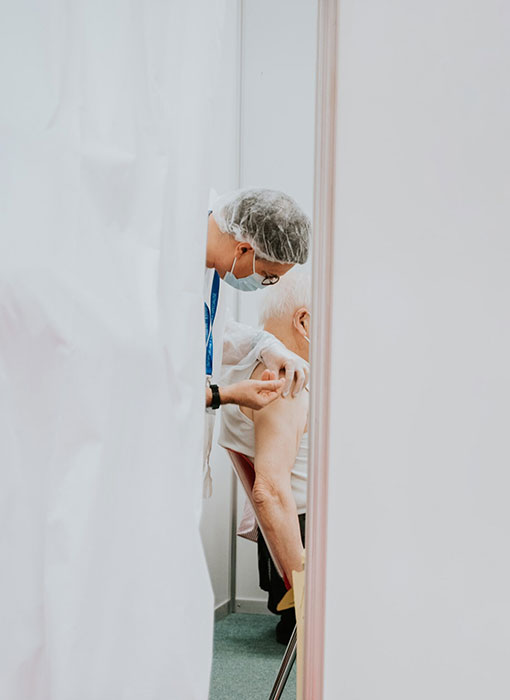 Basic Wound Care Strategy
Unfortunately, complete healing of wounds is often impossible for terminally ill patients: the body's ability to repair itself is greatly hampered in the advanced stages of illness. Therefore, treatment often proceeds with no expectation that the patient will fully heal, but that doesn't mean we can cease our duty of making the patient comfortable.
When a wound occurs, we make a plan. Our medical staff will establish the patient's prognosis and condition, and using that information, set a goal for treatment. If it is minor enough to heal entirely, we will treat it directly. If it is severe and unlikely to heal, treatment will focus on its symptoms only and not its underlying causes.
Our nurses and doctors will reevaluate the plan regularly to ensure that it is still suitable for the patient. As always, quality of life and comfort are the top motivators for hospice care, so it is vital to reevaluate the patient's needs often to ensure that the treatment is not causing more distress than the wound itself.
Our nurses and concierge physicians are familiar with all the aspects of wound care at home for the terminally ill. Our staff will not just treat the patients, but reassure them as well. With compassionate care, a wound is much less upsetting for patients.
Psychological Effects of Wounds
The effects of a wound on a body are obvious: pain, reduced mobility, and general discomfort. But staff and family must be prepared to attend to the effects on the patient's mind and emotions as well.
A wound might cause the patient to feel neglected or poorly cared for—and the family of an injured patient might feel that they are unable to help their family member. Seeping fluids and unpleasant odors might make the patient feel ashamed of her body, and this shame can spiral into depression or social isolation. Prompt, compassionate care can lessen these negative feelings, and UCLAH's expertly trained hospice workers know well that family members will need reassurance when such wounds occur.