What to Expect When Starting Hospice Care at Home
Our hospice team is large, so once a patient is admitted to hospice, a schedule is set with the agreement of the patient and family.
Our hospice team will communicate with the patient's doctors to learn medical history, current symptoms, and life expectancy. With that information, we will make a health care plan suited to the patient.
We will deliver any needed medical equipment to your home.
Regular nurse visits will be scheduled. The nurse will administer medication and assess the patient and the progress of the illness.
Aide visits will be scheduled. The aide will help with complicated physical care, such as bathing.
You will receive information on managing the patient's symptoms and on how to contact the hospice team if you have a question or need additional support.
The social worker and/or chaplain will visit to offer support.
Having all of these visits scheduled can feel overwhelming. If this seems like a lot, don't worry: visitors will come to your house one by one, sticking to the schedule you collaborated with us on. And we are always available for rescheduling or scheduling new visits as needed.
Expert Hospice Care in Los Angeles
To those approaching the end of their life, quality of life matters most of all. Too few have access to top-quality hospice care. We want to provide the best possible care to terminally ill patients and their families.
Unique Care Los Angeles Hospice is proud to provide hospice services to Los Angeles County, Ventura County, Orange County, and Riverside County.
Our mission is to provide compassionate, professional services for patients in their final stage of life and support bereaved families.
Who Is the Hospice Team?
Our staff is trained in a variety of disciplines, and each member plays a vital role to help patients in their final days and families.
Doctors
Our doctors are highly knowledgeable about end-of-life care and will coordinate with you, the patient's previous physicians, and the rest of the hospice team to ensure that the patient receives the best possible care.
Chaplains
Spiritual leaders have been consoling the dying and bereaved for centuries—long before there was modern medicine and nursing. Our chaplains offer comfort and bereavement support for families and patients, helping them come to terms with their grief and find meaning in life.
Aides
Our home health aides are specially trained in helping people nearing their end of life. An aide will visit your home several times a week to attend to the patient's physical needs, such as bathing.
Social workers
Our social workers help with a variety of tasks, helping to limit the strain on the family as the patient approaches the end of life. The social workers can help with paperwork, ensuring that the patient's requests are met, and helping the family sort out medical benefits. Social workers are also skilled in recognizing challenges and risks for patients, so they can assess whether a patient might need additional services.
Nurses
Your assigned nurse will visit your home regularly, assessing the patient, noting the progress of their illness, and administering any needed medicine. As the patient's needs changes, your nurse will alter the patient's health care plan and keep the other team members apprised of any developments. And of course, the nurse will discuss with you any changes in the patient and will listen to what you have to say.
The Family
The family of the patient does most of the day-to-day work. Helping the patient eat, dress, move about, and take medication are all critical roles when working with the terminally ill. Aides will help with the more difficult aspects of personal care, such as bathing, and the nurse will assess if anything can be done to enhance the patient's comfort. Assistance is always available by phone, and if the problem can't be resolved over the phone, then we can schedule a nurse visit as quickly as possible.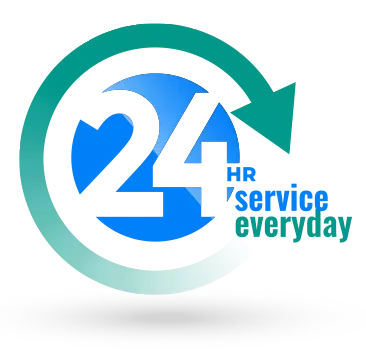 Unfortunately, illness does not stick to a schedule. For the times when a crisis arises and there is no hospice worker in your home to help, you can always call us. There will always be a nurse available to take your call. If the problem cannot be resolved over the phone, then we can schedule a nurse to make an extra visit to your home as soon as possible. Remember: the family is the center of the hospice team, and UCLAH is here to help you.
What is hospice care? Some people are unsure what hospice entails and when someone might enter hospice.
Hospice helps terminally ill people live their final months comfortably.
Treatment is given only to the patient's symptoms. There is no attempt to cure the illness.
There is no age requirement to be admitted to hospice.
To be eligible for hospice, two doctors must certify that a patient has less than six months to live.
A highly qualified team of professionals and caregivers looks after hospice patients. This team takes a holistic approach to patient care, looking after the patient's emotional, social, and spiritual health as well as physical needs.
Support is given to the patient's family as well.
The sooner a patient enters hospice, the better their final days will be. Some people worry that going into hospice means that they are "giving up" or losing all hope. This is not the case. We work to give hope to patients, helping them make the best of every day during the final days of their lives.
Hospice is sometimes confused with palliative care. Palliative care is meant to transition patients to a different mode of treatment. For some, that happens when treatment cures or manages their illness, so they can live with less intensive medical intervention. For other palliative patients, the treatment will not be successful, and they might choose to transition to hospice.
UCLAH provides whole-person care to all our patients. Our team includes a wide variety of experts who can address every patient's needs.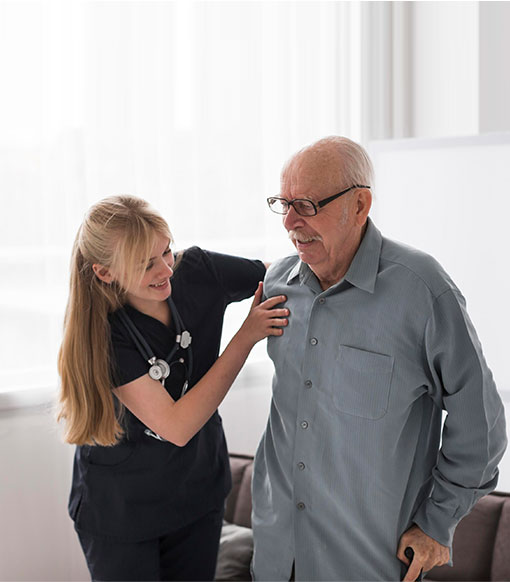 You Keep Control with Hospice
You might feel uneasy about letting strangers into your home to take care of your loved one. We understand—if you're researching hospice care, you have probably been taking care of your loved one for a long time yourself, and we know it can be an overwhelming task. But we operate on the principle that patients in hospice do best when they can stay at home, rather than live out their final days in a hospital room.
The family is the center of the hospice team. Our team members are not there to take over caring for your ill loved one. We will seek your guidance in caring for your loved one and will answer any questions you have. Remember, we are here to support you, not the other way around.
The Center of the Team: Family
The family of the patient is the center of the hospice care at home team. You are in control of the services and support you receive. We know that the family works hardest to look after the patient, helping them maintain the best possible quality of life during their last days. Remember that we are here to support you, not the other way around: if you need additional nurse visits, we can accommodate you. If you need to reschedule, that's fine too.
Our social services staff are not exclusively for the use of the patient. Our social workers can help you with grief counseling, and our staff chaplains are familiar with attending to the spiritual needs of the bereaved.


Specialized Treatments
The primary goal of hospice is to improve the quality of life for the patients. This means much more than just treating pain and nausea with medicine. Our nurses and aides are trained in a wide variety of treatment options beyond simply administering oral medicine.
Concierge physicians
For families who want the closest care possible, we have concierge doctors available on our hospice staff to perform regularly scheduled house calls with patients.
Intravenous therapy
For patients who struggle with eating and drinking, our nurses will expertly apply IVs without risk of harm to the patient.
Speech therapy
Many illnesses cause difficulties in speaking and swallowing. A speech therapist can help with both of those issues, ensuring that patients can communicate and enjoy their favorite foods.
Used in conjunction with medicine, our physical therapists can prescribe exercises that can greatly reduce pain and discomfort for the terminally ill.
Differs from physical in helping patients perform specific activities, such as grasping utensils or dressing. This helps patients maintain independence and keeps them doing the things they love while in hospice.
Wound care
The terminally ill are, unfortunately, susceptible to injury. However, our doctors and nurses know the special requirements of hospice patients and can ensure that the injuries cause as little discomfort as possible.
There is much more that we can offer to patients.
Please browse the rest of our website or contact us to find out more.
Compassionate Care from Unique Care Los Angeles Hospice
Unique Care Los Angeles Hospice offers expert hospice care at home throughout Los Angeles. We offer many treatments for hospice patients.